Paris Beauvais Tillé is a third airport to the northwest of Paris. The airport code is BVA and it is a small cheapest airport in Paris. The distance (88km) north of the city. The Beauvais airport is a domestic airport serves low-cost airlines  Ryanair and WizzAir. Traveling from Paris Beauvais Disneyland could not be the easiest and fastest journey. You can find a few different ways to make your journey from Paris Beauvais airport to Disneyland Paris.
Paris Beauvais Airport  private Shuttle
Paris Taxi
VEA Shuttle Bus
Train service
Bus service
How to get from Beauvais airport to Disneyland Paris
The easy and comfortable transfer solution is hiring a Paris Beauvais airport Disneyland shuttle. The travel time is approximately 1 hour and 30 minutes. The Beauvais Disneyland Shuttle offers a private transfer service. There is not any direct public Bus or Train transportation method from Paris Beauvais airport to Disneyland Paris. The travelers first need to take shuttle Bus from Beauvais Tille airport to the train station. The station locates around 10 km away from the Beauvais airport. The RER train number 19 leave from the Beauvais train station to the Paris center. From Paris Gare du Nord station to Chessy Marne la Vallée operates RER line A.
Travel duration 1 hour and 45 minutes
The train tickets from Beauvais to Paris city 14.50 €. From Paris Gare du Nord to Chessy Marne la Vallée station 17 €.
How to get Beauvais airport to Beauvais Tille Train station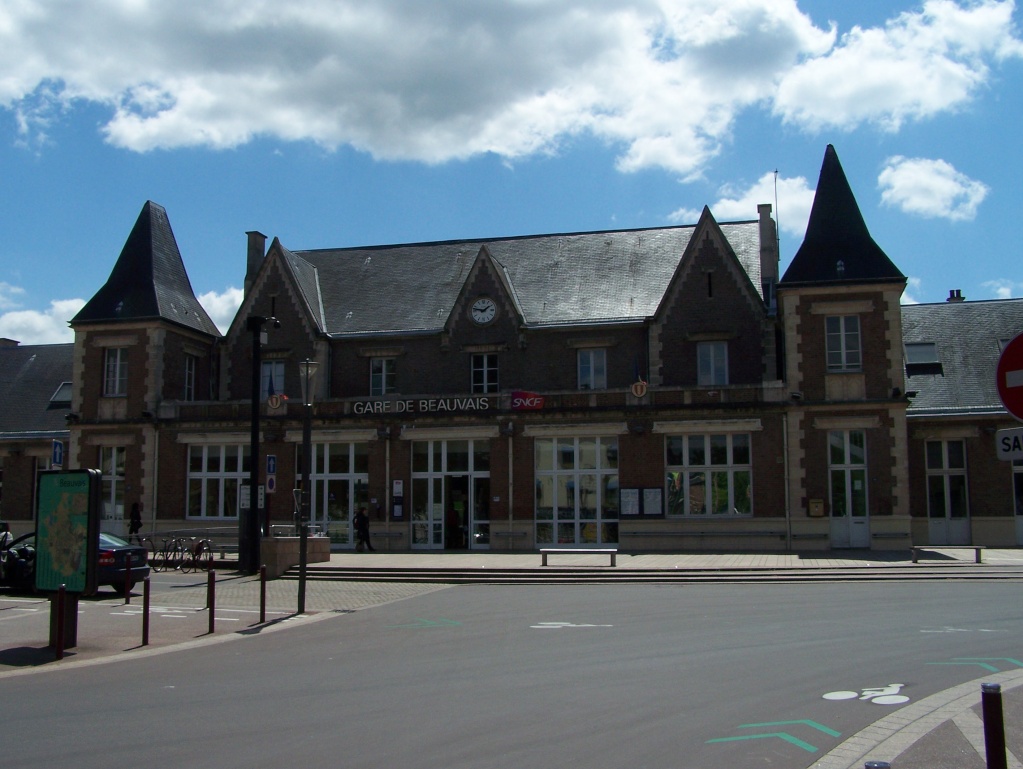 Taxis and shuttle Bus operates between Paris Beauvais Airport to Beauvais train station every 30 minutes. The private Beauvais taxi fare around €25. The price can change for extra luggage.   Beauvais Airport  Disneyland Taxis available at the outside the airport terminal 1 or terminal 2.
Beauvais Airport Direction

The public shuttle bus runs from Beauvais airport to Paris-Porte Maillot. The Porte Maillot is a biggest train station in Paris and it serves metro line a and RER  line C.  The shuttle Bus regularly runs between Paris to Beauvais airport. The shuttle Buses leave every 3 hours from Paris Maillot.
The Ticket cost is 15 euros.
Travel Paris Beauvais airport to Disneyland with a Private Taxi Service
The Taxi is a comfortable option to travel between Paris Beauvais airport to Disneyland. The Taxi driver will be waiting for you to arrive in Paris Beauvais Tille Airport arrival terminal hall. He will provide meet and greet service at your arrival. You will see your driver is waiting for you with a sign of your name. They assist you to make your journey comfort and safety. The taxi drivers are professional and English speakers. The Paris Beauvais taxis are expensive and it starts from 150 €.  The taxi travel time from Paris Beauvais airport  Disneyland around 1 hour and 20 minutes
Private shuttle from Beauvais airport to Disneyland Paris
 The convenient and reliable option to travel from Beauvais airport  Disneyland Paris with private shuttle service. They have a fixed rate and no extra traffic charges. The Private Beauvais shuttle offers large minibus, car, and vans. You can choose a suitable vehicle for your trip. The shuttle driver will wait at the airport arrival hall. You won't need to get trouble and inconvenient of the public Bus or Train service. The Private shuttle only for you and your family. They will drop you off your desired destination at fixed rates.
Travel time from Beauvais airport to Disneyland Paris around 1 hour and 30 minutes.
Paris Beauvais to Disneyland Paris
Convenience and Availability of the Bus service.
Most of the people are thinking only about the cost of the journey, So, they are looking for the cheapest transportation from Paris Beauvais Airport  to Disneyland.
The Beauvais Vea shuttle service is the cheapest option. But the people who need to comfortable travel we will not recommend the VEA shuttle Bus service. The journey takes very long and you have to travel with the unknown people as it shared shuttle service. Beauvais airport is not the nearest airport to Disneyland Paris. You must be wise to choose reliable and comfortable transportation option to begin your holiday from the airport.
Private Transfer from Beauvais to Disneyland Paris
Private transfer from Beauvais to Disneyland Paris is the best relaible service. You can book a private transfer in advance for your journey. They aim to provide door to door service.
| Paris Beauvais | 1-3 pax | 4 pax | 5 pax | 6 pax | 7 pax | 8 pax |
| --- | --- | --- | --- | --- | --- | --- |
| Disneyland paris |   130€ |  145€ |  150€ |   155€ |   160€ |  165€ |